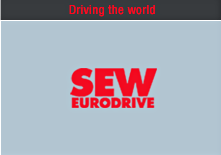 As a world leader in drive technology and a pioneer in drive-based automation, SEW-EURODRIVE has established a reputation for quickly solving the most difficult power transmission and motion control challenges. We introduced the gearmotor in 1931. In the 80 years since then, we have been bringing the best in drive technology to our customers. That commitment has led to a history of innovations — the first variable speed gearmotor, early development of electronic drives, some of the first successful efforts to decentralize control, and the first motor with energy-efficient copper rotors.
Of course, at SEW-EURODRIVE our expertise doesn't stop with the sale of our products. We offer one of the most accessible customer support systems in the industry. Our trained product specialists are readily available for on-site start up assistance and applications support. In addition, our PT Pilot® drive selection tool quickly selects the drive for your specific needs. Our customer service personnel, engineers, product specialists, and service technicians are available to answer questions and troubleshoot problems. SEW-EURODRIVE offers on-call emergency technical support around the clock.

SEW-EURODRIVE brings together everything you need to drive performance for your systems: A superior family of products, unsurpassed engineering, technical support, and innovative new technologies. We invite you to experience the SEW difference.